How Do the ACEEE Rankings Work?
ACEEE's International Energy Efficiency Scorecard ranks the energy efficiency policy and overall energy efficiency performance of 23 of the top energy-consuming countries in the world.
Together, these countries represent 75% of all the energy consumed on Earth, and over 80% of the world's gross domestic product (GDP). Each country's energy efficiency regulations are evaluated and scored, as well as how efficiently energy is used in its buildings, industry, and transportation sectors. In the 2016 rankings, the maximum possible score for a country was 100, with up to 25 points awarded in 4 categories: national efforts, buildings, industry, and transportation.
We are taking a special look at last year's Scorecard because it gives more weight to policy actions over performance (60/40). Metrics used to highlight best energy efficiency practices implemented by each country include national energy efficiency targets, vehicle fuel economy standards, and energy efficiency standards for appliances.
As DEXMA launches its guide to energy efficiency regulations around the world, this article takes a closer look at global leaders in energy efficiency regulations, investment, savings and policy incentives.
Global Energy Efficiency Leaders – Overall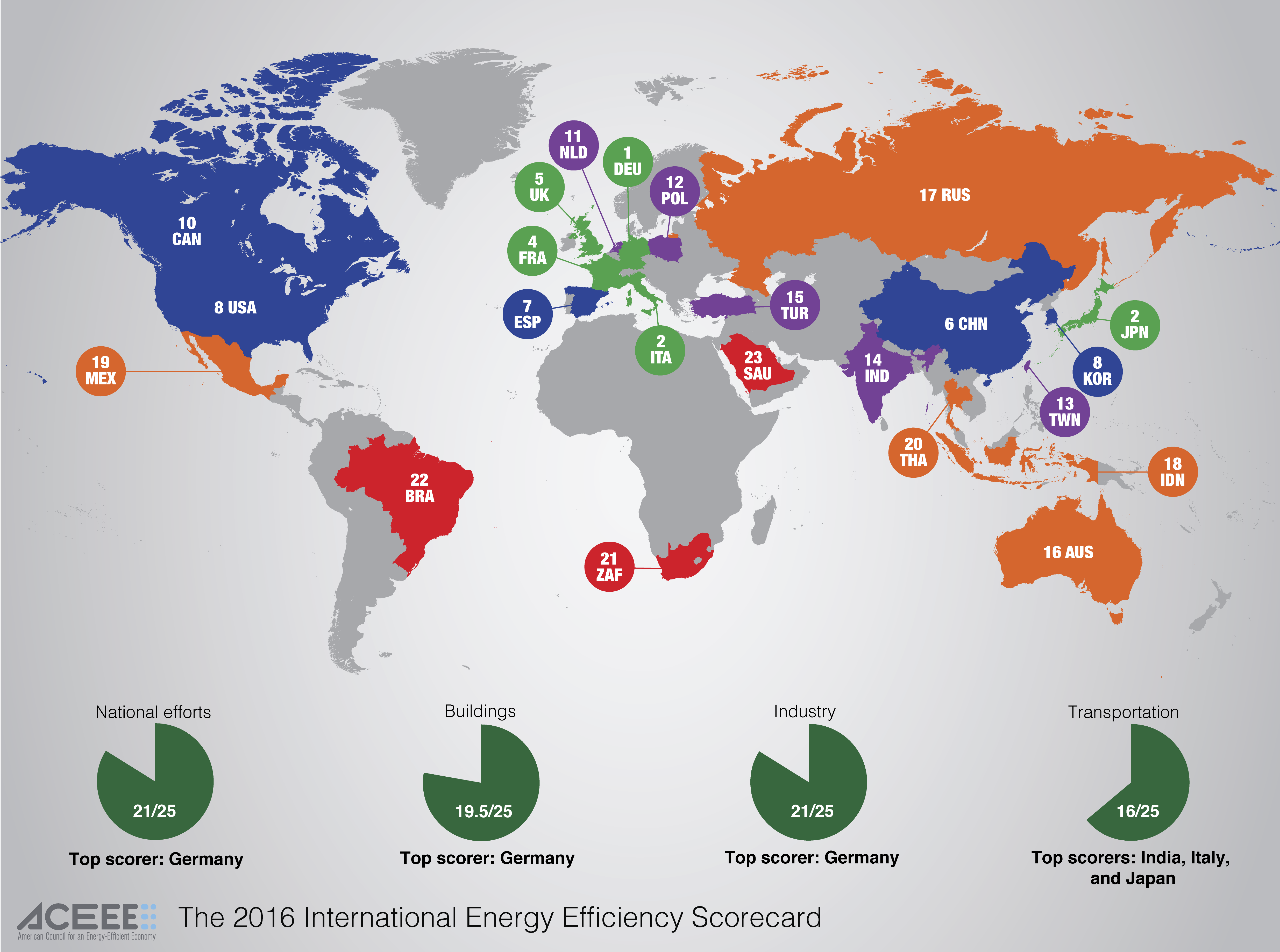 1. Germany ????????
This year, Germany earned the highest overall score with 73.5 out of 100 possible points. It also scored the most points in the national efforts, buildings, and industry categories to earn the top spot on the ACEEE International Energy Efficiency Scorecard. Germany earned the maximum possible points for spending on energy efficiency (319 USD or 295 EUR per capita), highlighting the government's dedication to reducing overall consumption.
It's also worth noting that Germany has gone above and beyond the European Union's Energy Efficiency Directive to increase energy efficiency from 2008 levels by 20% by 2020. The country intends to achieve a 50% reduction in energy use by 2050 over a 2008 baseline.
2. Japan ???????? , Italy ????????
With a score of 68.5, Japan and Italy tied for second place in overall energy efficiency leadership.
Japan's performance results from high scores on thermoelectric-efficiency as well as high levels of investment in R&D and tax incentives. Further, Japan's energy intensity decreased by 21% between 2000 and 2013 (due in part to the Fukushima nuclear accident of 2011).
Italy has demonstrated a commitment to energy efficiency in its industrial sector by establishing mandatory energy savings targets in factory plants, and mandating periodic energy audits. Italy is also among the countries with the largest share of installed CHP capacity, due in part to its policies and regulations to encourage CHP deployment.
3. France ????????
France came in 3rd place, trailing Italy and Japan by only 1 point. Like the rest of the EU countries, France stands out for its aggressive national energy savings targets as well as programs such as loans and tax incentives to encourage private investment in energy efficiency.
France has also realised significant energy savings by implementing building-related energy efficiency policies, such as the Energy Efficiency Action Plan that will increase the number of low-energy buildings and commits to the deep renovation of 500,000 dwellings per year. France has also made a commitment to reduce overall energy consumption by more than 17% by 2020.
4. United Kingdom ????????
2016 proved to be a challenging year for the United Kingdom in terms of energy regulation and climate policy (and not only because of Brexit). The government decided to roll back several energy efficiency regulations, including a cancellation of the 2015 Green Deal.
Still, the UK still has some solid programs and policies dedicated to energy efficiency relative to other countries around the world. In fact, there is hope that they may retain some of these despite the vote to leave the European Union.
For more global rankings, such as:
which countries are the top investors in energy efficiency
who have implemented the most effective energy savings goals and
where the biggest ESCO market in the world is
head to the DEXMA blog to read the full article.
To download a free energy manager's guide to energy efficiency regulations around the world, click here.